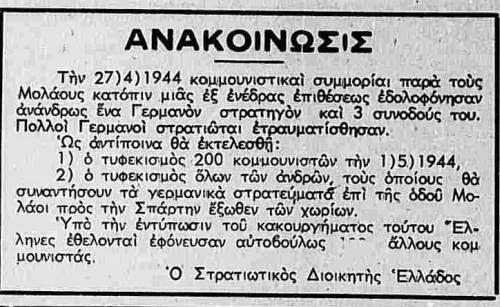 Announcement
On 27/4/1944 Communist bandits ambushed and murdered, in unmanly fashion, a German general and three of his entourage in Molaoi, Sparta. Many German soldiers were injured.
In retaliation, we shall:
1. Shoot 200 Communists on 1/5/1944,
2. Shoot all the men the German troops encounter on Molaoi, on the way to Sparta, in the surrounding villages.
Under the influence of this crime, Greek volunteers [Nazi collaborators] have willingly murdered 100 more Communists.
1 May 2014: KKE GS Dimitris Koutsoumbas visits the Shooting Field of Kaisariani in memory of the 200 Communists executed on 1 May 1944:
30 November 2014: KKE candidate Elias Stamelos wins the elections for Mayor of Kaisariani: