From the "unofficial" visit of the GS of AKEL to Mehmet Davutoglu, 23 January 2016, Turkey
Interview with
Toumazos Tsielepis
, Head of AKEL Committee on the Cyprus Problem,
16 January 2016
:
On imperialist war in the Middle East as an auspicious conjuncture for the solution of the Cyprus Problem:
- "It is true that at this moment, there is a conjuncture that is advantageous to the efforts for a solution. All the international players have an interest in a comprehensive solution of the Cyrus issue, like never before. The same goes for the rational interests of Turkey, though its current leadership is unpredictable."
On the need for cash liquidity the solution will imply:
- "Our job is to find the solution. When we find it, we need to come up with a final cost and then address that to the international community, asking for its aid so this solution can be implemented. The international community must procur us with the money, either as a gift, or as low-interest, long-term loans. It goes without question that in that case there cannot be a Memorandum logic at work, because then the Federal state would be mathematically led to collapse!"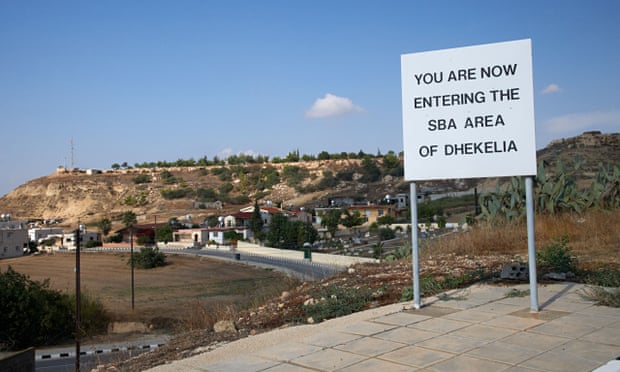 Entry to British Sovereign Base in Dekeleia, Cyprus. Written into the Cyprus Republic's Constitution of 1960
- On why the "International Community" [sic] should support the cost of the solution given its own financial problems:
"The Cyprus problem is a political problem giving the international community a headache for the last 50 years. It should be dealt with as such: with political, not with economic and Memorandum-like terms. The solution to the Cyprus problem is linked to major political, but also economic interests. Doesn't the EU have an interest in the solution to the Cyprus problem? Doesn't it, for instance, desire the natural gas of the Eastern Mediterranean in a manner that puts an end to its dependence on Russia? Doesn't the solution to the Cyprus problem work in the interests of the Southeast wing of NATO? The 10 or 20 billion that may be necessary for funding the solution is small change for the international community. On the contrary, the benefits it will reap are infinitely larger."
From
statements of Mevlut Çavosuglu
, Turkish Minister of Foreign Affrairs, after his meeting with AKEL GS Andros Kyprianou, 23 January 2016:
"
Asked how he views AKEL's positive views on a solution to the Cyprus Problem given that in 2004 it had voted against the Annan Plan, the Turkish minister stated that back in 2004, the leadership of AKEL was Mr. Christofias, who had different views, and added that today's AKEL leadership has a different position
."